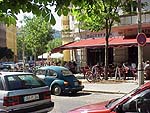 In Husemann Strasse
...which was restored as a "museum street" in the 1980s, you should really take a look in the small shops with their historical furnishings. There was, e.g., a true to original post office, respective letter boxes, telephone boxes etc. Unfortunately, not a lot of this has survived since reunification. A local history museum demonstrates the residents' way of life at the end of the 19th century. You can still buy quite a lot of the exhibited things in the antique shops next door.
Around Kollwitzplatz
you find a lot of bars and restaurants which are perfect for having a cozy breakfast or a drink in good company in the evening. It is the centre of the area. In 1947 it was named after Kaethe Kollwitz a famous graphic artist and sculptor. She is one of the most important artists of Germany and she has been living and working here with her family for more than 50 years. Here, a lot of bars and restaurants invite you to come in and have a lovely breakfast or chat while drinking a nice glass of red wine in the evenings. The Kollwitzplatz is the heart of this trendy neighbourhood. In 1947 it was named after the great graphic artist, illustrator and sculptor Käthe Kollwitz, who was one of the most important German artists. Together with her family, she lived and worked here for more than 50 years.
At the beginning of the 20th century this area was commonly known as the "Generals' quarter" as numerous officers who served in the barracks near Alexanderplatz had their homes here.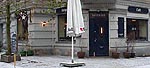 Cafe November at Husemannstr.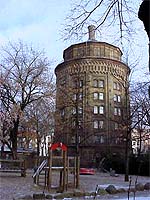 The Zeiss Planetarium
...was opened in 1987 on the occasion of Berlin's 750th Jubilee. Changing exhibitions are shown in the foyer. Telephone ++ 49 (0) 30-42 18 45-0. Find info about current exhibitions, how to get there as well as pictures of the building work on the planetarium's homepage.

The water tower in Prenzlauer Berg
...can be seen from various places in Berlin and is the district's landmark. It was built in 1875 in order to supply the surrounding area and the castle with water but was shut down in 1914 as there was not sufficient pressure. After this, the site was landscaped and a children's playground built.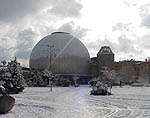 On the Jewish Cemetery
...you will find yourself in a place which is very important for Berlin's history. A lot of high-ranking personalities of the city's intellectual, cultural and economic life have found their last resting-place here. Max Liebermann (painter and president of the Prussian Academy of Arts), Ludwig Bamberger (fighter of the 1848 revolution), Eduard Lasker (banker and politician), Giacomo Meyerbeer (composer), Gerson von Bleichröder (at times richest man in Germany and fiduciary of imperial chancellor Otto von Bismarck) are just a few examples.
You can obtain a detailed plan of the cemetery with all of the important explanations from the cemetery's administration.