The apartment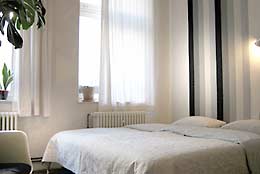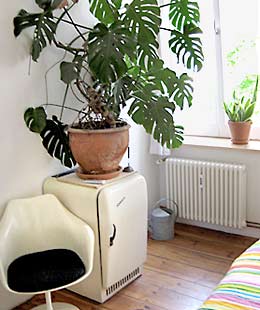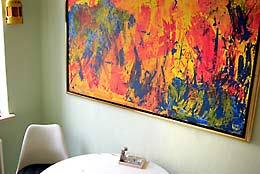 Apartment (about 35 sq m) for 1-2 guests with very large double bed (200 x 180) that can be separated if wanted, small kitchen, tub-bath with shower curtain.
WLAN (WiFi) connection free of charge.

The flat is situated in the upper ground floor of a typical Berlin block of flats, built in 1876 and originally conserved, situated in the hip quarter ("Kiez") Mitte Prenzlauer Berg. The facade has been renovated in 2005. It also has new windows and sills. The courtyard has a lot of plants and is quiet.
The apartment is furnished in a modern way and invites you to feel well - supported by the furnishing, the plants and the wooden floor (floor boards). The apartment is completely renovated and count with central heating and warm water.
The ideal own flat for Berlin tourists, night owls or if you like to visit your family.
The district Prenzlauer Berg
The house is situated in the "scene-area" from Berlin - close by to the Kollwitzplatz and water-tower, one of the most-frequented club and bar centres in the new Berlin.
On foot you reach all further corners of the Prenzlauer Berg - like...
the Kulturbrauerei (cinemas and a lot of clubs) or
the Lychener Straße with more bars and cafés (by the way, there is a wonderful Cuban with good Mojito and a bar named "Weinstein" with Topinki - Czech invention for all of those that like garlic, plus the "Kegelheim" where you can play on the traditional Kegelheim - German 9-pin bowling in the cellar underneath the bar) or
the Knaackstrasse with the café Pasternak, a Russian restaurant with live music and just some steps away the "Hausbar", in which you still quench your thirst until five o'clock in the morning
the Helmholtzplatz (the "old" heart of the Prenzlauer Berg) with the related Dunckerstrasse - a quarter with formerly many occupied houses
the Jewish cemetery (high-ranking personalities have their last quiet site here, for example: Max Liebermann, Ludwig Bamberger, Eduard Lasker, Giacomo Meyerbeer)
the Oderberger Straße (.... more bars, cafés and bistros...) or
the Friedrich Ludwig Jahn - sporting park with the Max Schmeling - hall (various music and other events)
and the Mauerpark.
So you can see - it will surely not be boring, even you don't leave the area around the flat.
But don´t worry- the Hackescher Markt and the Oranienburger Straße in the district Berlin Mitte or further parts of the city are easy to reach. You have connection to underground, busses and streetcars. And if you are in a hurry: A taxi stand is around the corner. Down to the Alexanderplatz it is just a 10 minutes walk on foot.
The prices per night and apartment

summer-price
per night
March-October

winter-price
per night
November-February*

1 guest
€ 63
€ 53
2 guests
€ 70
€ 59

Linen and towels are included in the price
final cleaning 20 euro.
Children up to 16 years pay as 2nd or 3d guest 6 euro per night.
A cot is available upon request.
1-night-booking +10%
Dogs are welcome for an extra charge of 4 euro per night.
Breakfast is not offered
For your booking a deposit of at least 25 % is necessary and 75 % in cash when you arrive. Only last minute booking: you pay 100 % when you arrive.
*The winter price is not available for New Year´s Eve.
currency converter