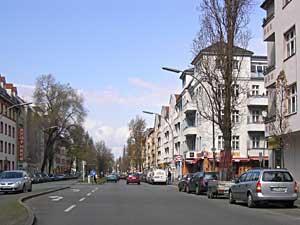 The street Manteuffelstrasse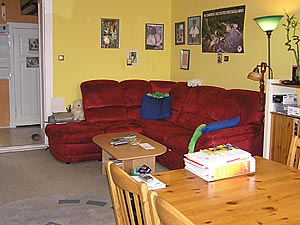 The living room can be used by guests.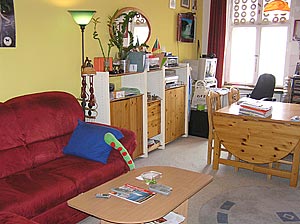 The living room can be used by guests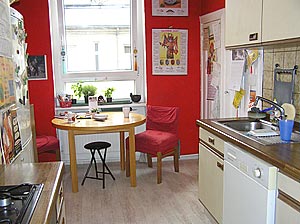 The kitchen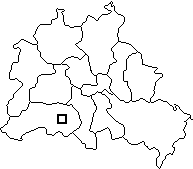 The room is located on Manteuffelstraße in 12103 Berlin, Germany. Click on the map to go to www.stadtplandienst.de (mapguide) or use web.de (incl. routing function)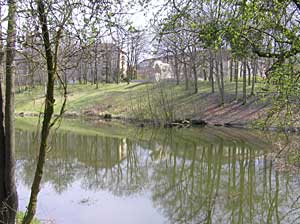 "Blanke Helle" at Alboinplatz, a beautiful park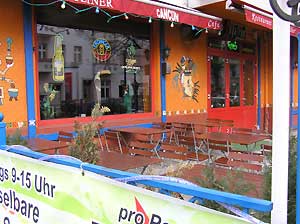 Café, restaurant and cocktail bar "Cancún" (approx. 100 m)
On Sunday and bank holidays from 9am to 3 pm brunch for only 7.90 euros


Shared bathroom with bathtub.
Bed and Breakfast with hosts Gabriele and Mathieu
Your hosts
... are a multicultural pair. Gabriele is a real Berliner, but besides Berlinerisch also speaks English.
She works within the social range with children and travels very gladly, at least travels every 2 years with her husband for some weeks to the homeland of her husband to Africa. Mathieu comes from Cameroon, lives since 11 years in Berlin. He works full-time in metals works constructions and in his spare time cares his honorary for Cameroonian kids in Berlin to promote them in football and Cultural dances from African e.g. The JuJu Dance group. He speaks beside German also English and French.
| | |
| --- | --- |
| | |
| MTY JuJu Dance Truck at Carnival of Cultures in Berlin | |
With the JuJu dance is to bring to the German public and show the world a special dance of humans from the western part of northwest of Cameroon closer. The JuJu dance is a true piece of African culture. The JuJu's is in masks which are an important part of African culture -with out it seems to be missing the traditional aspect. "Dance OF spirit" (the dance of the spirit) comes as great importance, since the African believe in the present of the ancestors. If you are looking for acommodation during the Carnival of Cultures in Berlin have a look here.
The accommodation
The 85 square meters large accommodation is situated in the Manteuffelstrasse on th e3rd floor. You will live in one of the 3 rooms. There is a living room, a kitchen and a bath which can be used beside with the host. In the kitchen there is a stove with baking-oven, microwave, toaster, coffee machine, water digester, refrigerator, table-ware, glasses and mess kit.
The situation
You find us in Berlin Tempelhof, southern city of Berlin from the center. From there lets to the city of Berlin by the good underground binding excellently to be explored.
The U6 takes you e.g.
to Halleschen Tor to the gate in to the Jewish museum,
to Kochstr, which is near the checkpoint Charlie,
to the station Stadtmitte, crosses "Unter den Linden",
drives further to the Friedrichsstrasse,
to the Oranienburger gate at that the famous Oranienburger Strasse into center with all its events, Cafés and restaurants to see
To Berlin Schönberg (e.g. Motzstr.) drives also 24 an hour bus of the M46. to the north direction about 500 m to the Berlinickeplatz (or take the bus M246 and/or at night N84 1 station) and from there is 18 min drive to the beautiful mountain of Schönberg.
Within fewer meters on footpath are e.g. a Lidl shop, Aldi market and some restaurants. e.g. the Café Charlotte at the corner Attilastrasse With a universe you CAN eat and drink - Break fast from 9:00am - 14:00pm at a price of 5,95 euro and a daily universe you CAN eat - (evening Buffet) from 18:00pm - 22:00pm likewise at the price of 5,95 euro.
The guestroom
It is a 28 square meters room with its own balcony suitable for 1-3 guests. It has a single bed (approx. 1 m broad) and a sleeping couch (approx. 1,50 m broad) for up to 2 persons. In addition there is in the room a wardrobe for placing your belongings, a television and a computer with Internet connection, which can be used free of charge.
| | |
| --- | --- |
| | |
| The guestroom | Sleeping couch, desk with computer and internet access in the room |
| | |
| --- | --- |
| | |
| The guestroom, Sleeping couch, wardrobe with mirror | |
Park situation
The park situation is relatively relaxed. You may find directly in front the house no parking lot , but there is a large free parking lot opposite at the Gaessnerweg free of charge.
Low Emissions Zone (LEZ) – LEZ stickers
The city zone (A) within the S-Bahn-Ring (city train circle) is part of the LEZ. If you want to drive with your car in the Berlin city centre, inform yourself here: LEZ stickers for tourists. This accommodation is located outside the LEZ. You can leave your car here and travel with public transport into the city centre.
The prices per night and room

| | |
| --- | --- |
| 1 guest | 27 euro |
| 2 guests | 40 euro |
| 3 guests | 53 euro |
extra charge by only 1 night: + 4 euro per guest
You can receive breakfast sub charge for 5 € per guest.
Key deposit 50 euro refundable when departure
You can come along with your dog - surcharge for it: 3 euro a night.
Children to max. 6 years along cradle or in bed of parents free of charge
discount for longer stay: each 7th night free of charge
For your booking a deposit of at least 25 % is necessary and 75 % in cash when you arrive. Only last minute booking: you pay 100 % when you arrive.
The distances
To the undergound station Kaiserin -Augusta Str it is approx. 5-7 min on foot (500 m). Or you take the bus 184 to the underground station.
station Zoologischer Garten: 35 min by bus 184 to underground station Alt Tempelhof than take the metrobus M46 to station Zoologischer Garten
Main station : 28 min by underground U6 from station Kaiserin-Augusta-Str. to Friedrichstrasse than by different lines of rapid-transit railway to the main station
Friedrichstrasse (Berlin center): 21 min by underground U6 from Kaiserin-Augusta-Str. until Friedrichstrasse (14 min drive + 7 min footpath)
Fair-trade Berlin ICC: 34 min by bus 184 to Tempelhof then by city-train (S-Bahn) S41 to the fair Nord/ICC
Berlin Kreuzberg (Hermannplatz) 15 min by bus 246
Berlin Schöneberg (Motzstrasse) 24 min by bus 246 or on foot to Berlinickeplatz and then by bus M46 to Schöneberg Motzstrasse
Potsdamer Platz: 27 min by bus 184 direction Lichterfelde Ost to Attilastr., then by city train (S-Bahn) S2 to Potsdamer Platz
airport Tegel: 45 min by underground U6 from Kaiserin-Augusta-Str. to Kurt Schumacher-Platz, then bus M128 until Airport Tegel
airport Schönefeld: 49 min by bus 246 direction Britzer Allee to Hermannstrasse, then by city train S-Bahn direction Schönefeld to the airport