Situation of the private rooms
The apartment lies in the northerly part of the lively East Berlin area of Prenzlauer Berg. This is where the Bohemians and creative minds, cafés, clubs, Aunty Emma shops, yuppies and punks are found together in a multi-cultural lifestyle. The Ernst-Thälmann-Park, where the planetarium is situated, is about 500 m away. The much liked Helmholtzplatz is only 250 m away, the Kollwitzplatz about a 10 minute walk. U and S Bahn (subway and city train) stations can be reached within 3-5 minutes' on foot. The metro station is also only a few metres away.

The private rooms are located on Dunckerstraße in 10437 Berlin Prenzlauer Berg, Germany.
Map: stadtplandienst.de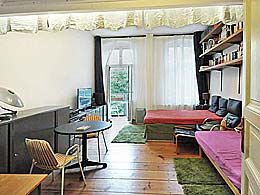 large double bed in the private room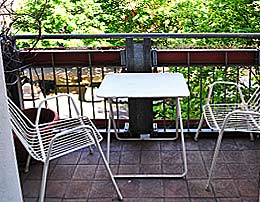 Balcony with nice view, large room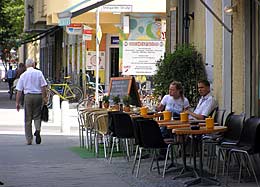 Dunckerstr corner Stargarder Str.
The private rooms
The rooms are situated on the second floor in a non-smoking apartment.
The large room has a big double bed, sitting places and a TV. It also has a wonderful, large mirror. The room leads out onto a balcony, where an open-air breakfast can be most tempting in the summer. On the balcony can be smoked. The large room is suitable for up to 4 guests. For the third and fourth guest, an extra bed can be supplied.
The use of the kitchen is gladly shared with the host, as is the bathroom with shower. Considering our guests who are allergic to animal hair it is not possible to take domestic animals with you.
The host
Young at heart, the host is self-employed and often busy in his nearby studio. He takes great pleasure in welcoming people from different lands and cultures, as he too has wonderful memories of friendships and encounters while being a guest in other countries. His international circle of friends ensures that his Spanish and English language skills are constantly in use, as do his future guests. For over 20 years he has resided in Berlin and is more than happy to guide you to the most attractive and worthwhile spots of the city. This motorcycle fanatic welcomes uncomplicated and open-minded guests, that aren`t necessarily expecting an ordinary room, but that rather appreciate an unconventional and unusual decorating style of a passionate artist. This private apartment is an affordable accommodation and a perfect starting point for discovering Berlin.
Prices per night/private room
large room (with balcony)
| | |
| --- | --- |
| 1-2 guests | 45 euros |
| 3 guests | 60 euros |
| 4 guests | 75 euros |
Minimum stay 2 nights.
For longer bookings - every 8th night is free
Children 3-14 years pay 5 € per child in an ordinary bed.
Babies are free of charge in their parents' bed or if you bring a bed
A babybed (cot) is available on request (one time charge of 10 euro)
Extra charge for arrivals after 22:00: 10 euros.

Breakfast is not offered but there is a bakery in the building.
Distances
A 5 minute walk (approx. 300 m) to S-Bahnhof (city train station) Prenzlauer Allee. The tram/street car line M2 with last station Alexander Platz goes also at city train station Prenzlauer Allee. The nearest U-Bahn Station (underground station) is Schönhauser Allee (approx. 800 m).
Fair ground Berlin in approx. 23 Minutes nonstop by city train (S-Bahn S42) to Messe Nord/ICC from Prenzlauer Allee
Train station Zoologischer Garten: in approx. 24 minutes from Prenzlauer Allee by city train (S-Bahn S42) to Westhafen, then onward by underground line (U9 direction Steglitz) to Zoologischer Garten.
Berlin Potsdamer Platz: in approx. 21 minutes; from Prenzlauer Allee by city train (S-Bahn S42) to Gesundbrunnen, then onward by S-Bahn (S1 direction Wannsee) to Potsdamer Platz.
Berlin Mitte Alexanderplatz: nonstop by street car (M2) in approx. 17 minutes; from Prenzlauer Allee to Alexanderplatz.
Berlin Hauptbahnhof: in approx. 25 minutes; by street car (M2) to Alexanderplatz, onward by different S-Bahn-Lines to Berlin Hauptbahnhof
Flughafen Berlin Tegel : in approx. 35 minutes; from Prenzlauer Allee by S-Bahn (City-Train S42) to Beusselstraße, then onward by Expressbus TXL to the airport.
If you are driving, you can reach the city freeway in 15 minutes and the northern Berliner Ring in 10 minutes. It is not always easy to find a parking space in the vicinity of the apartment, but it is normally possible.
Parking
Commercially controlled parking spaces are available in front of the house. This implies that you can only park for a fee and it is accessible from Mo-Sa 9am-12pm for 50 cent per half hour. A few streets away, limited free parking is available.
Low Emissions Zone (LEZ) – LEZ stickers
The city zone (A) within the S-Bahn-Ring (city train circle) is part of the LEZ. If you do not have a sticker for the LEZ of Berlin city centre, you can find information here, on how to get LEZ stickers for tourists.
Streets and locations within the radius of 500 meters: Wichertstraße, Kanzowstraße, Dunckerstraße, LSD-Viertel (named after Lychener, Schliemann- and Dunckerstraße), Ahlbecker Str., Zelterstraße, Meyerheimstraße, Gudvanger Str. Humannplatz, Stahlheimer Str. Pappelallee, Stargarder Str., Buchholzer Str., Gneiststraße, Raumerstraße, Lychener Str. Schliemannstraße, Helmholtzplatz, Lettestraße, Diesterwegstraße, Fröbelstraße, Prenzlauer Allee, Ernst-Thälmann-Park, Grundschule am Planetarium, Hiddenseer Str. Stubbenkammerstraße, S-Bahnhof Prenzlauer Allee, Göhrener Straße, Senefelder Str. Fröbelplatz, Planetarium, Zelterstraße, Poliklinik Dr. Karl Kollwitz, Grellstraße, Karl-Friedrich-Schinkel Oberschule, Neu apoltolische Gemeinde, Musikschule, Gethsemane Kirche, Gethsemanestraße, Stargarder Str. Danziger Str.