Situation in Flingern Nord
The apartment is better suited to young and uncomplicated people who are not noise sensitive, as the trains run right behind the building (also at night).
The guest apartment is situated in the heart of Düsseldorf on a lively street in the midst of a multi-cultural neighbourhood. Train tracks run behind the building. The main train station is only 800 yards away.
Flingern Nord is one of the hippest quarters of Düsseldorf — directly adjacent to Centre City. Just walk along the Ackerstrasse over the railway bridge. It is almost as hip and trendy as the harbour area and Unterbilk, but less pricey. Enjoy the lively and steadily growing restaurant and bar scene, as well as numerous art galleries and studios.
In the near neighbourhood there are Italian, Turkish, Yugoslav, Russian, Portuguese and German restaurants – more than enough to tempt the palate.
Getting food is no problem. Breakfast opportunities are available in and around the train station, unless you have enough time to relax in one of the cafés in the neighbourhood.
Just outside the door there is an internet café and a call shop (for inexpensive phone calls abroad).
The guest apartment
You are renting a self catering guest apartment on the 1st floor of the rear extension. The only other party is your landlord on the ground floor.
The guest apartment of approx. 40 m² (430 sqft.) comprises two rooms adequate for up to 4 people.
The living room comes with TV, radio set and a convertible studio couch of 150 x 200 cm (60 x 80 inches) – plus dining area. The bedroom is equipped with a double bed of 150 x 200 cm (60 x 80 inches) and a wardrobe.
The kitchenette with running water contains a range with 2 hot plates and a fridge. The bathroom is on the corridor but you have it for your own and it is equipped with bathtub/shower facility, sink and toilet.
Parking situation
If you arrive by car, you may have to search for some time to find parking, but there are no parking fees charged.
Your host
has been living in Düsseldorf for many years, loves travelling and knows the best inline skating tracks in town.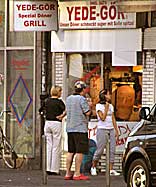 Tip: possibly, the best Turkish doner kebab in Düsseldorf can be found just 200 m away at Yede-Gör at Worringer Platz in Düsseldorf Mitte. For many, this is the real Doner-highlight. Rather unbelievable, but in this tiny room, up to 5 people work to keep up their good reputation. The preparation is extremely quick and the doner is delicious … fresh ingredients, top quality meat, toasted pita bread and of course the sauce – bon appétit!