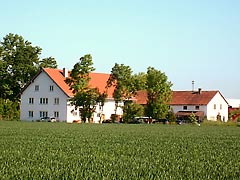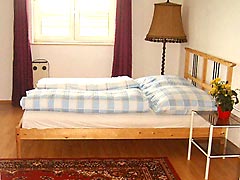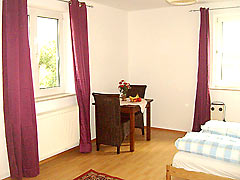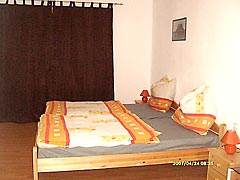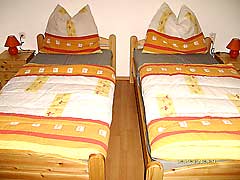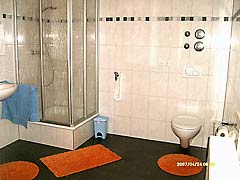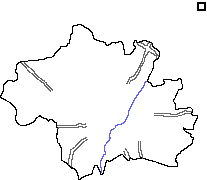 The guest rooms are located on: Eichenstraße in 85445 Schwaig, by Munich, Germany.
Map: www.stadtplandienst.de
The situation in Schwaig in the north of Munich
Our 3 guest rooms are on an old, renovated farmyard in a wonderful area, near to the airport in Schwaig by Munich. Schwaig is part of the region of Erding and is ideal for those flying to or from Munich Airport which is just 3km away. There are numerous recreational activities in the area, for e.g. The Caribic Thermal Baths in Erding (approx. 10 km), "Lange Zeile" in Erding with its numerous businesses, restaurants, historical community centres; Dornberg in Freising with its impressive Dorn Library (about 5kms) or Marienplatz with Marien Column and the city church of St. George which serve as the urban core of the city of Freising.
The centre of Schwaig is just 1km away. It has a good variety of shopping including a supermarket, butchery and pharmacy. There is also an Italian restaurant "Il Casale" with fine delicacies, a cafè and a pub with excellent Bayern food and a beer garden with shady chestnut trees.
The guest rooms
All non-smoking rooms are furnished. One room is suitable for 1-3 guests; the other 2 rooms are suitable for 1-2 guests. Two extra beds can also be easily set up.
There are 2 bathrooms, for sole use by the guests.
Guests may share the use of the kitchen.
Small children up to 3 years of age can share the bed of their parents or stay free of charge in a bed that is brought with. Smoking in the rooms and in the house is not allowed, but is of course in the garden.
The use of the washing machine comes at a charge. Wireless internet is included in the price.
We offer our guests a shuttle to and from the airport. Safe parking on the courtyard for cars or motorbikes is for free during your stay.
Your host
The hosts were born in Sri Lanka and India, are Austrian citizens and speak many languages fluently: not only German, but also English, Spanish, Portuguese, Czech and Hindi. They would also love to learn Chinese and Japanese. They are world explorers and have worked in various countries; are married with 2 children and look forward to having amiable guests from all over the world.
Price of the guest room
| | |
| --- | --- |
| 1 guest | 40 Euro per night |
| 2 guests | 55 Euro per night |
| 3 guests | 70 Euro per night |
| 4 guests | 85 Euro per night |
Extra charge for only one night +15 Euro per room. Breakfast is offered at 6 Euros per guest.
You pay 25 % in advance and 75 % in cash when you arrive. Only last minute booking: you pay 100 % when you arrive.
The price per room during Oktoberfest and important fairs
| | |
| --- | --- |
| 1-2 guests | 70 Euro per night |
| 3 guests | 90 Euro per night |
| 4 guests | 110 Euro per night |
Fairs: Bauma, Bau, IFAT
Minimum booking time during the Oktoberfest weekend is 2 nights, otherwise, 1 night. Extra cost for stays of only 1 night is 15 Euro per room. See available dates during the Oktoberfest here.
You pay 50 % in advance and 50 % in cash when you arrive. Only last minute booking: you pay 100 % when you arrive.
Low Emissions Zone (LEZ) – LEZ stickers
The area inside the middle ring of Munich (city circle) is part of the LEZ. If you want to drive with your car in the Munich city centre, inform yourself here: LEZ stickers for tourists. This accommodation is located outside the LEZ. You can leave your car here and travel with public transport into the city centre.
Distances
Munich Airport in 12 mins: with the bus in 11 mins to the airport, MAC/Terminal 1
Erding city in 22 mins: with bus 512 to Erding without connection change
Munich train station in 63 mins: with the bus to the airport and on with the S-Bahn (tram) to Hauptbahnhof
Theresienwiese (Oktoberfest) in 65 mins: with the bus to the airport, continue with the S-Bahn (tram) to Ostbahnhof and on with the U-Bahn (metro) to Theresienwiese
New Munich Convention Centre in 72 mins: with the bus to the airport and on with the S-Bahn (tram) to Daglfing. Continue with the bus to neuen Messe München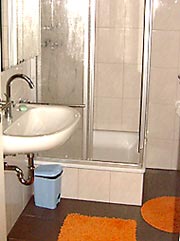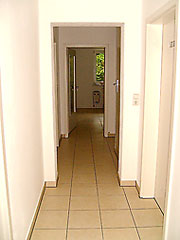 Parking
free-space
Euro
Garage
Euro
< 1 day
20
30
1 day
20
30
2 day
24
34
3 day
27
39
4 day
27
43
5 day
29
47
6 day
29
47
7 day
34
54
8 day
34
58
9 day
38
60
10 day
41
64
11 day
44
68
12 day
45
72
13 day
45
76
14 day
45
78
15 day
48
82
16 day
60
86
17 day
62
88
18 day
64
90
19 day
66
92
20 day
68
94
21 day
70
96
22 day
72
98
23 day
74
101
24 day
76
104
25 day
78
106
26 day
80
108
27 day
82
110
28 day
84
112
29 day
86
114
30 day
88
117
31 day
90
120
The shuttle for up to 5 guests is included for clients that stay over AND pay for parking. Transportation for 6 to 10 guests will be charged at 5 Euros extra per person. By longer stays, the arrival day is not counted.
The parking is simply displayed on this site. The payment occurs directly at the location with the host. The prices may change before arrival, so we recommend you print out the price list above and bring it with you.