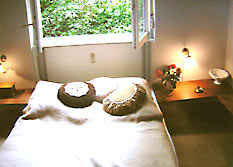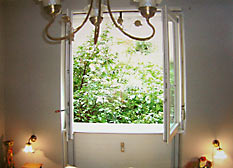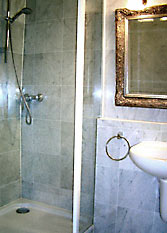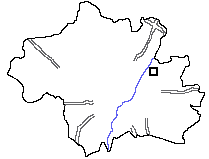 The guest room is located on Mauerkirchstrasse in 81925 Munich, Germany.
Map: www.stadtplandienst.de
The location in Munich Bogenhausen, district Herzogpark
The Herzog Park in southern Bogenhausen stretches between the Isar and Isarleite from the Max-Joseph-Bridge in the south to Oberföhringer Stauwehrand and the green valley to the north of Herzogpark. This residential and villa suburb is one of the most distinguished areas of Munich.
The area is quiet but also very central. The Isar is just 100 m away and the English garden, from where the lively suburb of Schwabing begins, is just 200 m away.
The guest room with private bathroom
This non-smoking room (13,5 mē ) is in the apartment of the hostess in the ground floor, has a French double bed and is suitable for 1-2 guests. An extra mattress can be placed in front of the bed, although this limits the space a good deal. The guest room has a private marble bathroom (shower and toilet) with an "art nouveau" mirror. Unfortunately, pets are not allowed and the apartment is unsuitable for children. Smoking is permitted on the terrace. Guests are welcome to share the use of the kitchen.
Your hostess in Munich
Your hostess speaks German, English, French and some Italian.
Parking
It is normally no problem to find a free-of- charge parking space nearby.
Low Emissions Zone (LEZ) – LEZ stickers
The area inside the middle ring of Munich (city circle) is part of the LEZ. If you want to drive with your car in the Munich city centre, inform yourself here: LEZ stickers for tourists. This accommodation is located outside the LEZ. You can leave your car here and travel with public transport into the city centre.
The prices per guest room with private bath per night
Octoberfest Price
(for bookings made till 10 Sep 2014)
Octoberfest Price
(for bookings made after 11 Sep 2014)
= Last Minute
1 guest
80 Euro
70 Euro
2 guests
100 Euro
90 Euro
3 guests
120 Euro
110 Euro
Breakfast + 5 euros per person.
Minimum-stay on weekends during Oktoberfest: 3 nights
extra charge for only one night +15 Euro per room
| | |
| --- | --- |
| | Price |
| 1 guest | 40 Euro |
| 2 guests | 50 Euro |
| 3 guests | not possible |
Breakfast + 5 euros per person.
extra charge for only one night +15 Euro per room
For your booking a deposit of at least 25 % is necessary, 100% payment on arrival applies only to last minute bookings.
For booking for Oktoberfest a deposit of 100% is necessary.
Distance
Munich main train station in about. 29 minutes: by Bus 187 (direction Ostbahnhof Munich) to Rümelinstraße, then continue with the U4 (in direction Westendstraße) to "Hauptbahnhof München"
Theresienwiese/Oktoberfest in about 33 minutes: by Bus 187 (direction Ostbahnhof Munich) to Richard-Strauss-Straße, then continue with the U4 (in direction Westendstraße) to Theresienwiese
Munich airport in about 47 minutes: by Bus 188 (direction Unterföhring, Fichtenstraße) to Unterföhring Gemeindehalle, then continue with the regional bus 231 (in direction Ismaning) to Ismaning, und then by train (S8 in direction Flughafen Munich bis zum Flughafen Munich
Convention Centre Munich in about 41 minutes: by Bus 187 (direction Ostbahnhof Munich) to Richard-Strauss-Straße, then continue with the U4 (in direction Westendstraße) to Max-Weber-Platz, then continue with the U5 (in direction Neuperlach) to Innsbrucker Ring und then with the U2 (direction Messestadt Ost) to Messestadt West