The location in Munich Sendling
The guest room lies on the 1st floor of a double story house.
Central location: Munich Sendling, near to U-Bahn Westpark; Garmischer-Autobahn 2 mins, Lindauer 2 mins, Oktoberfest 20 mins with U-Bahn (to U-Bahn 3 minute walk, 6 minute ride, 5 minute walk to Oktoberfest ). Westpark: 10 minute walk. Gym: 5 minute walk.
To get to the Oktoberfest, take the U6 for about 7 mins and then walk for 5 mins.
The guest room
The room is in a 54 m² sized 3 room apartment. It is 16 m² in size and is suitable for 1-2 guests. It has 2 fold out beds that disappear into the cupboard when they are folded away during the day. The room has a fridge and a cooking place. The bathroom is shared with the hostess and 2 other guests. A dog can be brought along if requested. A city plan, for use by all guests can be found in the room.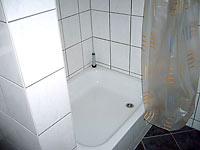 The bathroom is shared and the dishes must also be washed there. The hostess can however, offer a dishwashing service, where the used dishes are collected in a basket and placed in her dishwasher.
Smoking in the guest rooms is not allowed, but is in the garden. Unfortunately, there is no washing machine, but a laundromat is just 5 mins away. Internet is free of charge via LAN cable.
The hostess
What she says about herself: "After being in management for 15 years, my interest in the "System of people and products in business" is constantly growing. Of my own accord, I wanted to learn more about the relationship of "person to person" and completed my diploma as a European Business Trainer/ Coach/ Consultant. This consequently, led me into self-employment. Today, I combine my multi-faceted trainer/coach know-how together with my diverse experience as a manager in a food company where hierarchy plays an important role. New tasks, new challenges and the ambition to discover something new have all been combined together. As a systematic thinking person, I love different combinations and situation related actions. My motivation to be a hostess: I think it is simply nice to provide guests with a furnished place to stay. I speak German and English."
The prices of the guest rooms
| | |
| --- | --- |
| 1 guest | 40 euro per night |
| 2 guests | 60 euro per night |
Discount: Every 7th Night free. Months booking for one person possible, 680 € per month.
Minimum stay 3 nights, even less possible after consultation with supplement of 10 € per night.
One child up to the age of 3 years stay in parents bed for free.
For your booking a deposit of at least 25 % (for Oktoberfest 50%) is necessary, the complete payment at arriving is only possible for short-term bookings.
The prices during the Oktoberfest
| | |
| --- | --- |
| 1-2 guests | 90 euro per night |
Minimum stay 2 nights, even less possible after consultation with supplement of 30 € per night, if there´s a gap of less than 2 nights or more between two bookings.
One child up to the age of 3 years stay in parents bed for free.

Breakfast is not offered
Parking
Parking is generally not a problem. You can park a motorcycle safely in the garden or the garage of the hostess.
Low Emissions Zone (LEZ) – LEZ stickers
The area inside the middle ring (city circle) of Munich is part of the LEZ. If you want to drive with your car in the Munich city centre and you do not have a sticker for the LEZ of Munich city centre, you can find information here, on how to get LEZ stickers for tourists. This accommodation is located outside the LEZ. You can leave your car and take public transport in the LEZ.
Distances
Munich Trade Fair Centre: about 33 minutes from Westpark with the underground (U6 Fröttmaning) to Sendlinger Tor, then take the underground (U2 direction Messestadt east) to Fair City West
Munich main station: about 18 minutes from Westpark with the U-Bahn to Sendlinger Tor, then take the underground (U2 direction Feldmoching) to the central station
Theresienwiese / Oktoberfest: about 14 minutes with the underground (U6 Fröttmaning) to Goetheplatz