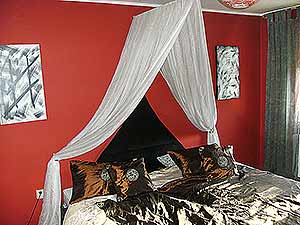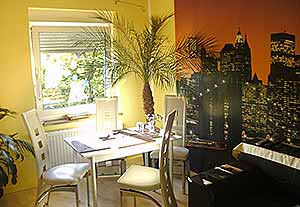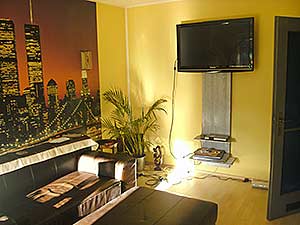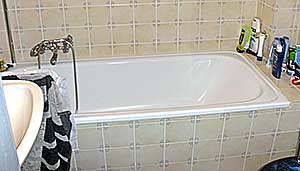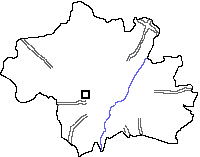 The old-style apartment is located in Fürstenrieder Strasse in 80686 Munich, Germany.
Map : stadtplandienst.de
Routenplaner: web.de
The location in Munich Laim
2 room, old-style apartment, 44 m², in pretty area Laim (west), travel connections: 2 mins to U-Bahn, 2 mins to bus, Autobahn A96 on-ramp Laim 10 mins. Restaurants, cafés, discos within walking distance.
This lovely old-style building apartment
is 44 m² in size and lies on the 3rd floor (without a lift). It is equipped with:
A complete kitchen (coffee machine, dishwasher, washing machine, microwave and crockery).
Bedroom and sleeping possibilities (poster bed 2 x 2 m, 1 x wardrobe, further small cupboards, 2 x camping beds, 1 x blow up bed for 2 people)
Bathroom (bath, shower, toilet, basin)
Living room (4 chairs, table, leather couch, leather stool, 42 inch flatscreen TV, wireless internet, DVD player)
Laminate flooring
Towels, linen etc. are provided. Smoking is permitted in the apartment. Pets are not allowed.
For Oktoberfest
U5 to Laimer Platz train station is only 250 meters from there 5 stops to Theresienwiese (Oktoberfest about 6 mins)
The host
Your host usually lives in the apartment, but during the Oktoberfest he moves out and rents his private apartment to guests. Naturally, there is place for your personal items in the cupboards. He not only speaks high German, but also "Berlin-German" and some English.
The prices
1-3 guests
200 euro per night
each additional guest + 35 euro up to 5 guests
Final cleaning 25 euro
Children under 5 years stay free in parents' bed, a children's bed is not there.
Minimum stay at weekends: 3 nights

Breakfast is not offered
For your booking a deposit of at least 25 % is necessary, the complete payment at arriving only is possible for short-term bookings.
Low Emissions Zone (LEZ) – LEZ stickers
The area inside the middle ring (city circle) of Munich is part of the LEZ. If you want to drive with your car in the Munich city centre and you do not have a sticker for the LEZ of Munich city centre, you can find information here, on how to get LEZ stickers for tourists. This accommodation is located outside the LEZ. You can leave your car and take public transport in the LEZ.
Parking
Parking is generally not a problem. Parking comes at a charge on the main road, but on the side roads it is for free and it should not be too difficult to find a free space. A motorbike can be parked in the backyard, where it can be securely locked to a pole.
Transport connection
Munich main station: 10 minutes without changing the U5 subway from Central Station to Laimer Platz
Karlsplatz (Stachus) : 11 min without changing the U-Bahn U5 from Karlsplatz Laimer Platz
Munich Trade Fair: 34 minutes by subway U2 to Insbruck ring, then change to the U-5 to Laimer Platz
Theresienwiese / Oktoberfest: 9 min without changing the Metro U5 to Theriesienwiese to Laimer Platz