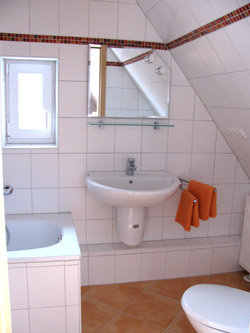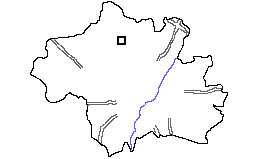 The guest room is located on:Gundermannstraße 80933 Munich, Germany.
Map: www.stadtplandienst.de
Streets and places in the environment 500 m around the guest room :
Schleißheimer Str., Weitlstr., Ittlingerstr., Harald Dohrn-Str., Caraciolastr., Hardenstr., Glockenbecherstr., Wolfoltstr., Freudstr., Wayprechtstr., Hammstr., Hasenbergstr., Miteisstr., Pulverturmstrase, Eith-Stein-Weg, Wesselystr., Leuschnerstr., Paul-Braun-Str., Willy-Brandt-Gesamtschule, Olschweskibogen, Augustin-Rösch-Str. Geschwister-Löb-Str. Eberwurzstr., Stindlstr., Augustin-Rösch-Str.
The location of the room in Munich
The accommodation lies in the north of Munich, in the suburb of Lerchenau - a quiet residential area with single and double family homes.
Nearby are food stores (MIRA shopping centre) and restaurants (traditional, Italian, Greek, steak house). The vast Olympiapark and the Olympia Tower, the BMW-Museum and the BMW-World, as well as the Rock Museum Munich are just 3km away.
In the nearby street Schleissheimer Strasse, are countless businesses ranging from florists to opticians and supermarkets, to fast food restaurants and cafés. Within walking distance are restaurants like the Tannenhof (Caracciolastrasse), Steakhaus Asado and Poseidon (Schleissheimer Strasse) or Eschergarten (Ebereschenstrasse).
A bakery with a cold-meats counter and cafè is just opposite the house.
The room
The room (25 m²) with a separate entrance lies in a double-family house.

There are 2 single beds (90 x 200) and a sitting place. A TV and radio/CD-Player are also available. The bathroom has a bath, toilet and basin. A baby travel bed is available.

There is no kitchen, but there is a small fridge, a microwave and a coffee machine.

The washing machine in the cellar can be used at a charge. The front garden can be used. This is also where smoking is allowed. A well-behaved dog may be brought along if requested.

The room is also available to rent monthly (price upon request). Towels are changed once a week during long stays and bed linen every 2 weeks.

Your host

Your hosts live next door and are there to help with any problems you may encounter. They speak German as well as English.
Distances
U-Bahn (U2) Station Harthof is about a 5 min. walk away. The travelling time from Harthof to Hauptbahnhof München (main station) is about 13 mins.
Munich Convention Centre can also be reached from Harthof in about 40 mins without connection change.
If you would like to visit the Munich Oktoberfest at Theresienwiese, go to Hauptbahnhof München with the U2, continue with the U-Bahn U5 until Theresienwiese, about 17 mins from Harthof.
The room lies about 2km from the freeway crossing A99 (exit München Neuherberg).
Low Emissions Zone (LEZ) – LEZ stickers
The area inside the middle ring of Munich (city circle) is part of the LEZ. If you want to drive with your car in the Munich city centre, inform yourself here: LEZ stickers for tourists. This accommodation is located outside the LEZ. You can leave your car here and travel with public transport into the city centre.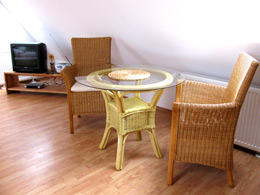 The prices
| | | |
| --- | --- | --- |
| | per nicht | per week |
| 1 guest | 45 Euro | 285 Euro |
| 2 guests | 51 Euro | 317 Euro |
Oktoberfest and other important trade fairs* extra charge: +30%

Towels and linen are included in the price

Minimum stay: 3 nights

Breakfast is not offered.
*BAU, ISPO, F.RE.E, GARTEN MÜNCHEN, SYSTEMS, HEIM + HANDWERK, Bauma

You pay 25 % (for Oktoberfest 50%) in advance and the rest in cash when you arrive. Only last minute booking: you pay 100 % when you arrive.
Parking
Parking: parking is available in front of the house (private).