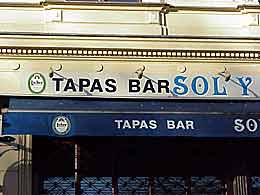 With all these possibilities to go out in the nearby Oranienstrasse it is very easy for everybody to turn night into day.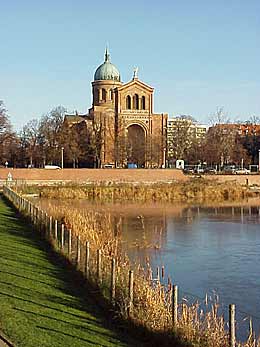 Michaelkirchplatz - in former times the old canal between Urbanhafen (port) and Schillingbrücke (bridge) run here. Today, on this terrain there are parks and meadows. A small part of the terrain (like you see on the picture in the front on the right side) was flooded again.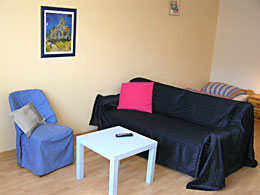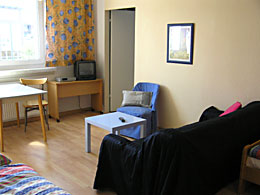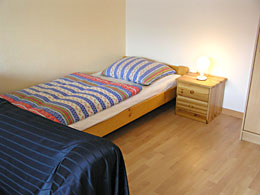 The living room/bedroom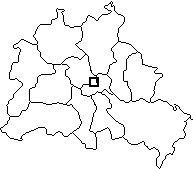 The apartment is located in Heinrich-Heine-Platz, 10179 Berlin Mitte, Germany.
Map: www.stadtplandienst.de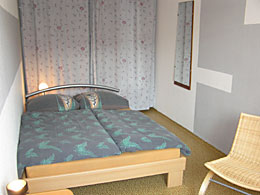 The adjacent bedroom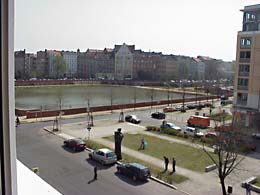 View out of the window
House and surrounding
The apartment with two rooms is located in a new building right in the middle of Berlin between Kreuzberg and Friedrichshain, near Jannowitzbrücke and Oranienstrasse. The Oranienstraße that is very near offers many possibilities to go out and to turn night into day. Many tourist steamers are starting from the Jannowitzbrücke (bridge). And only 1000 meters away from here to the Museumsinsel (museums-island).
The pub scene of the Kreuzberg district
The times when blacked out tourist buses crawled through the district are over. Today, the guests saunter themselves through the "Kiez", with tinted sun glasses, always eager for being seen. The best way to realize that is to stay in the pubs with large glass fronts situated directly at the place: "Rote Harfe", "Elefant" (the pub where "Herr Lehmann" was informed of the opening of the Berlin Wall), "Taqueria Florian", Bâteau Ivre" or the Asia-Fusionfood-Selfservice "Mama Su". The hippest place of all is the "Orient Lounge", situated above the "Rote Harfe". Here you are attracted by oriental flair with sitting bolsters and water pipes. Everybody who likes to have dinner in the "Séparée" (dining room, separated by lace curtains of tulle) should make a reservation before.
The apartment
The approx. 50 m² large apartment on the 4th floor is very bright and can be reached via a lift. The apartment is suitable for up to 6 guests (only 4 adults and 2 children). It is ideal for 2-3 guests. There are 1 double bed, 2 single beds an one settee.
The apartment has two rooms. In order to reach the kitchen and the bedroom you have to walk through the living room. The bedroom is equipped with one double bed; the living room has two single beds and a bed settee as well as a table, chairs and TV. And of course there are also cupboards.
Distances
The underground stations Moritzplatz and Heinrich-Heine-Strasse (both line U8) are each just about 500 - 600 m away, from here you can reach all four corners of the city.
You can reach:
Alexanderplatz in 3 minutes from Heinrich-Heine-Straße (U8) to Alexanderplatz
Potsdamer Platz in approx. 12 minutes; from Heinrich-Heine-Platz by bus 347 (direction Philharmonie) to the Potsdamer Platz
Central station of Berlin in approx. 20 minutes; by underground (U8) from Heinrich-Heine-Strasse to Jannowitzbrücke and then go by city train (S-Bahn) S5 to central station (Berlin Hauptbahnhof)
Fairground Berlin, ICC: in approx. 35 minutes; by underground from Heinrich-Heine-Strasse to Gesundbrunnen, then go by city train (S-Bahn) to Messe Nord / ICC
Station Zoologischer Garten: in approx. 27 minutes; by underground from Heinrich-Heine-Strasse to Jannowitzbrücke, then by city train (S-Bahn) S7 to station Zoologischer Garten
Ostbahnhof: in approx. 9 minutes; without changing by bus 347 from Heinrich-Heine-Platz
Airport Berlin Tegel: in approx. 45 minutes; by underground from Heinrich-Heine-Strasse to Osloer Strasse, then go by bus 128 to the airport
Airport Berlin Schönefeld: in approx. 49 minutes; by underground (line U8) from Heinrich-Heine-Strasse to Hermannplatz, then go by city train (line S45) to the airport
Parking
You can park for free on the street but sometimes you need to search a bit to find a space.
Low Emissions Zone (LEZ) – LEZ stickers
The city zone (A) within the S-Bahn-Ring (city train circle) is part of the LEZ. If you do not have a sticker for the LEZ of Berlin city centre, you can find information here, on how to get LEZ stickers for tourists.
The prices per night
April-October

November-March*

1-2 guest

60 euro

55 euro

each further guest

+ 15 euro

children up to 12 years

6 euro
* winter discount available from November until March, but not on Christmas and New Year's Eve (23. Dec-05. Jan)
Final cleaning 30 euro
Minimum stay 2 nights
Children up to 5 years stay for free in parents' bed.


Breakfast is not offered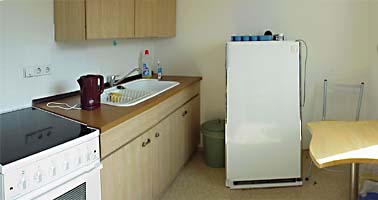 the kitchen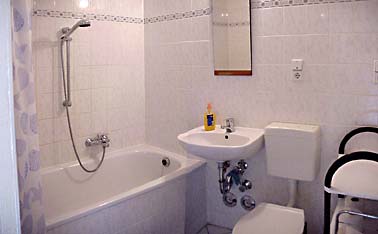 the bathroom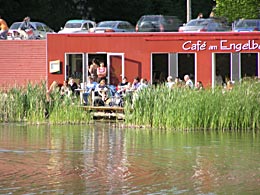 Surrounding