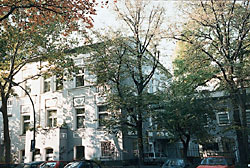 the apartment is located in this house
The apartment is situated on Motzstraße in 10777 Berlin, Germany.
Map www.stadtplandienst.de



With several breakfast cafés and restaurants on a quiet service road on Viktoria-Luise-Platz in Schöneberg, it is the perfect place to relax.
Also in the surrounding area are excellent shopping opportunities, as well as small stores for your everyday needs. Kurfürstendamm und KaDeWe are within a short walking distance, as is the lovely weekly market at Winterfeldtplatz.
The surrounding area - Berlin Schöneberg
Schöneberg lies geographically between the trendy district of Kreuzberg and the middle-class Wilmersdorf. With its chic pubs, cafés and restaurants the district is as lively as an area renowned for nightlife. To really experience Schöneberg, you should try to get to the Winterfeldtmarkt at the weekend , perhaps the most well known weekly market in Berlin. Here you will find the highest quality fruit, veg, flowers, cheese, clothes and household items. After which, you can relax in one of the many surrounding cafés.
It was in Schöneberg townhall in 1963 that John F. Kennedy made his famous "Ich bin ein Berliner" speech to Berliners on the west side of the wall. West-Berlin was governed from the Schöneberg townhall up to the time of reunification; the liberty bell still rings here every midday. The graveyard in Stubenrauchstraße is the final resting place for possibly one of the most famous Berliners: Marlene Dietrich, who was born in 1901 in Schöneberg.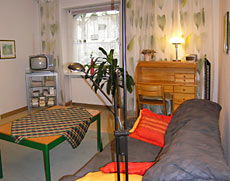 living area with sofa-bed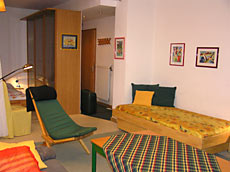 another single bed in the living area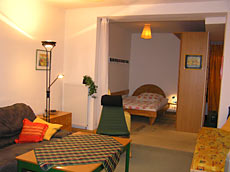 living/sleeping area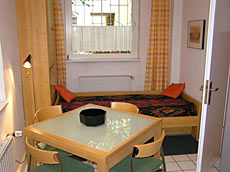 possibility of sleeping in the kitchen