| | |
| --- | --- |
| Holiday home in south-west Leipzig- private accommodation | |
You will stay in an annex of the host's house and will have your own separate entrance. The accommodation was actually built for private guests and relatives. But strangers, (who may even become friends?) are now also welcome!
In the bedroom-cum-lounge there are two comfortable sofa-beds for 2 guests each. As such, the holiday home is suitable for up to 4 guests- although ideally recommended for 2.
Smoking is not permitted in the holiday home. The accommodation does however contain an additional communal room in which smoking is allowed.
Parking is free on the street. Bicycles and motorbikes can be locked up in the courtyard.
Prices for the whole holiday home per night
occupancy from May - September:
1-2 guests = 40 euros
3-4 guests = 47 euros

From October to April, the same prices apply, although energy costs are not included. The holiday home has central heating and hot running water. The cost averages 0.22 per kWh.
Payment for last minute bookings on arrival. Otherwise, a 25% deposit is required. Staying additional nights cost a further 3 euros per guest. If requested, the fridge can be stocked before arrival for an additional cost.
We regret that pets are not allowed in the holiday home.
Transport links from the holiday home to the centre of Leipzig
It is only 5km to the A38 motorway. There is a good transport connection to the centre of Leipzig. The tram stop is roughly 3-5 mins away. From Seumestrasse station it is only 29mins to Leipzig central station. Click here for a town roadmap.
More information on transport systems in Leipzig can be found on http://www.lvb.de. Something to note: payment for trams can only be made by card, so it is better to buy a travel card before you board!
The surrounding area to the holiday home
On the other side of the street, you will find the south-west ecological swimming pool (a former gravel pit) for splashing around and swimming in (lifeguards are present during holidays).
Leipzig Elsterstau lake
You can explore the nearby Elsterstausee by rowing boat or pedalo. Boats can be hired on site Mon-Fri 1-7pm and Sat-Sun 10am-7pm. Pedalos cost 6 euros per hour, rowing boats 5 euros/hr. Sailing boats/ sailing courses are also available. The lake's shore is free to use and there is also a snack bar/kiosk.
Belantis amusement park in Leipzig
The Belantis amusement park is only a 10 minute drive from the accommodation. By public transport, it is approx 18-25 mins (by bus/tram). The park itself is divided into various themes. In "Land of the Pharaohs" for example, visitors feel like they are archaeologists, discovering the secrets of the old Egyptian trail. There is also a child's play area where they can do their own archaeological excavation. All of this takes place in the shadows of the 30 metre high pyramids. A great experience for kids! Children up to 1 metre go free.
Leipzig Cospudener Lake
The shore of the Cospudener lake lies at the lake's north bank, so the sun shines here all day on the 50 m wide shore. Particularly enjoyable (and safe!) is the cycle path through the Aue forest alongside the Elser up to the community park Cospuden. 'Actively enjoy freetime' is the motto. The 450 hectare Cospudener lake is the ideal spot, with its over 300 hectares of community park, yachting port, viewpoints, botanical gardens, shores and heaths. Whether sailing, in-line skating, surfing, diving or cycling- here you will find everything that your senses, and muscles, should experience on a short break. By the lake you will also discover bus tours, boat trips, 'beach' parties, readings, cabaret, camp fires or private viewings in the art galleries. In summer there are events on a raft-stage. It is also the perfect romantic setting to watch the sun set.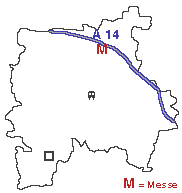 The holiday home is located on Göhrenzer Str. in 04249 Leipzig, Germany.
Click on the map to see more www.stadtplandienst.de; or use web.de (incl. routing function.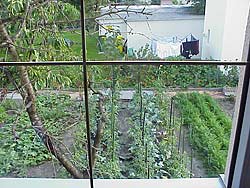 View of garden from kitchen window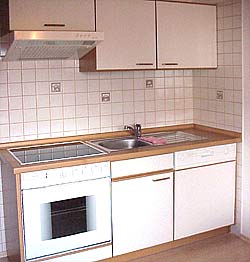 Kitchen with seating area, view into the garden, kettle, coffee machine, cooker and crockery you will need for your stay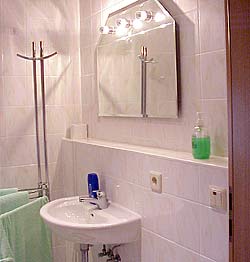 modern bathroom with shower and toilet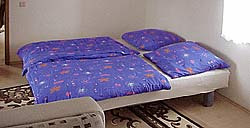 One of the comfortable sofa-beds- pictures of other rooms are unfortunately not yet available.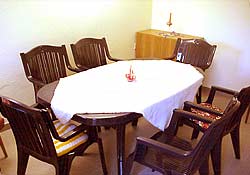 the separate residence outside of the holiday home