The apartment lies in the extension to the home of the host family and has a separate access door. Originally built for private use, it is now available to you.
Even though it measures only 28 m² (301 sqft.), you will not miss anything. You have your own modern bathroom with shower and window.
There is space for 1-2 people. For single occupation the fold-away bed shown above in the picture can be used, for double occupation there is the convertible studio couch..
The small mini kitchen with cooker, fridge and sink, coffee machine and tableware is hidden in the left cabinet (see picture right)..
There is a TV and a radio set, a small corner seating unit from where you can look out into the garden. Everything has been thought of..
At the entrance of your apartment there is a protected seating area with chairs, a sun shade and a Hollywood swing – a nice place to be when the weather is fine, without being observed by the neighbours. You may sit there, perhaps with your hosts, for a little chat, for reading your book or to finish off the evening with a glass of wine or beer.
In case the apartment is already occupied, the host provides in special cases an additional guest room that can be rented, for example when more than 2 people come or during the convention fair. Here you share the bathroom with the hosts. Prices available upon request. Pictures can be seen here: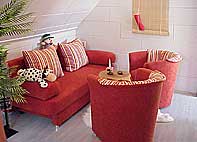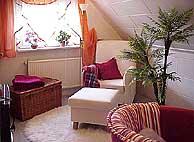 additional guest room if the apartment is occupied
Smoking is allowed in the apartment and the guests room. It is not possible to bring your pets.
Parking lot
No parking lot problems. They can park the car free of charge in front of the house.
Transport connection
To station Rosenowstrasse (bus) you walk approx. 600 m.
Main station: Travel time approx. 20 minutes; by bus (line 80, direction Leipzig Thekla, Tauchaer Straße) to Mockau, post office, then by tram(line 9, direction Markkleeberg-West) to the main station
Neue Messe (New fair): Travel time approx. 16 minutes; by bus (line 80, direction Leipzig Lindenau, Bushof) to Delitzscher/Essener Straße, then by tram (line 16) to the fairgrounde
More information about the public transport in Leipzig you can find here: http://www.lvb.de . Important: In the tram you can only pay with money card. So it is better to buy the ticket in advance!