The room itself measures 35 m²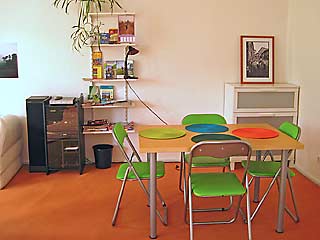 Table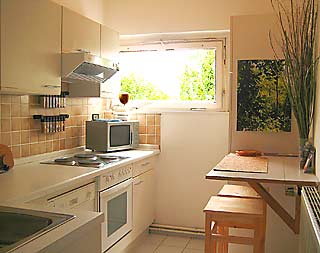 The kitchen comes complete with: fridge (with freezer compartment), dishwasher, electiric cooker (with oven), microwave, kettleand everything you need for cooking with.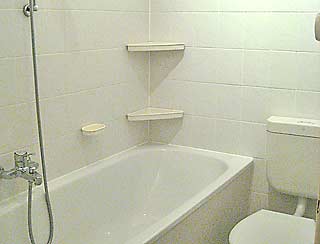 The bathroom has a bathtub and a shower, as well as a toilet.
Streets and places within a 500 m radius:
Gleimstrasse, Fleamarket Mauerpark, Swinemünder Strasse., Ramlerstrasse, Putbusser Str., Rügener Str,. Graunstrasse / Graunstr., Demminer Str. Falkplatz, Kopenhagener Str. Koröser Str., Brunnenstrasse, Gleimtunnel, Seniorenheim, Diesterweg Oberschule, Friedenskirche, Schwedter Str., Max Schmeling Halle
The holiday apartment
The apartment has large south-facing windows, with an undisturbed view over a quiet courtyard and over the neighbourhood's roof and tree -tops. The apartment is 50 m² in size, with a small kitchen, bathroom, corridor and a large 35 m² room.
There is enough space for 1-4 guests. It has a French bed and a sofa-bed, which is 2x2m in size when pulled out. TV, radio and wireless DSL internet are available (no telephone). The apartment has regular central heating. It lies on the 4th floor (no lift).
There are other friends in the house also renting out rooms and apartments, making it possible to accommodate a small group or a few couples. Altogether, we speak German, English, Italian, Russian, and Arabic.
I live in the neighbouring apartment. There is also always someone in the house to answer questions or give helpful tips about special events in the city.
3 bicycles (5 euros each per day) are also available to rent.
Area
The apartment lies close to the Mauerparks, which were originally the border lines of the Berlin wall in Berlin Prenzlauer Berg. Every summer evening, they are transformed into gardens for barbecue parties. Once there was even a small camp fire, around which one could comfortably relax while sipping a drink! There is a flea market there on Sundays, which is definitely worth a visit. In the front part of Gleim Street, one can find cafés and bars, one after the other – African, French, Thai, Indian, Spanish, Italian and German food are all served.
Travel connections
3 minutes' walk to the underground and city train stations - Gesundbrunnen, or to underground (U-bahn) station - Voltastrasse The M10 (metro tram) runs every 3 minutes (open 24 hours), between Prenzlauer Berg and Friedrichshain / Kreuzberg. Tip: exploring Berlin on bicycle is much more exciting. They are available to rent, for e.g. in the Culture Brewery, where guided tours are offered in winter and summer
Culture
Around the corner, at Falkplatz, lies the Max-Schmeling-Hall, where large concerts and sport events are held.
On the other end of Gleim Street is the Colosseum Cinema. The Schönhauser Allee and Kulturbrauerei, with discos, salons, restaurants, clubs, galleries, Christmas market and bicycle rentals, can be reached within 10 minutes' on foot. It takes 15 minutes' by underground to reach Alexanderplatz (Alex) or Hackeschen Markt / Scheunenviertel, where diverse designer shops and galleries can be found.
Shopping
Within a 2 minute walk, you will be able to shop at Aldi, Lidl, or the more expensive Real Supermarket. Diverse shops can be found in Gesundbrunnen-Centre or in Schönhauser Allee Arcades.
Sport
There is a Tartanbahn in Jahn-Sport-Park at the Max-Schmeling-Hall which is ideal for jogging. Or the nearby Humboldhain park on Brunnen Street is also a good option.
In summer it is well worth a short trip (about 30 minutes by city train) to Weissensee – a real lake in the middle of Berlin suitable for swimming.
For special individual tips, just ask me!
Prices for the holiday house
Summer prices
price per night
March-Oct

Winter prices
Price per. night
Nov-Feb*

1 guest
60 euros
50 euros
2 guests
66 euros
55 euros
3 guests

81 euros

67.50 euros

4 guests

96 euros

80 euros
Towels and linen are included in the price,
final cleaning 20 euros,
miminum stay: 2 nights
Every 10th night is free


Breakfast is not offered
3 bikes available- 5 €/bike/ day
Cost for children 4-10 years: 6€/night as 2nd,3rd or 4th guest.
Children up to 3 years stay for free in parents' bed.
Winter reduction does not apply from 22/12-06/01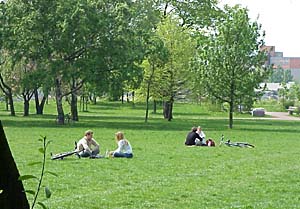 Falkplatz and Mauerpark nearby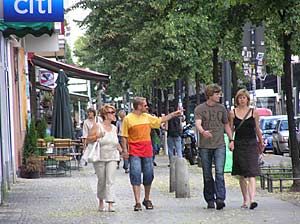 Many shopping opportunities, banks, cafés on Schönhauser Allee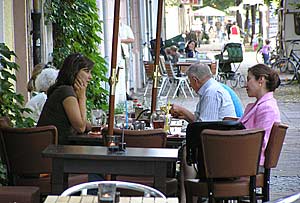 Café at Arnimplatz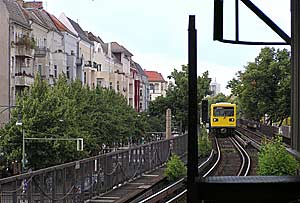 The underground station Schönhauser Allee, here from the view above ground, of a viaduct (Magistrats-Schirm)
Parking
There is no separate parking space but parking is free on the street.
Low Emissions Zone (LEZ) – LEZ stickers
The city zone (A) within the S-Bahn-Ring (city train circle) is part of the LEZ. If you do not have a sticker for the LEZ of Berlin city centre, you can find information here, on how to get LEZ stickers for tourists.
Distances:
The S+U-Bahn stations Gesundbrunnen und Voltastrasse are approx 500 m away. From there you can travel in all directions across the city.

Berlin Mitte Alexanderplatz: approx 12 minutes, from Voltastrasse by U-Bahn (U8 diretion Hermannstrasse) direct to Alexanderplatz
Berlin Potsdamer Platz: approx 18 minutes, from Gesundbrunnen by S-Bahn (various lines) direct to Potsdamer Platz
Trade fair Berlin: approx. 21 minutes, from Gesundbrunnen by S-Bahn (circle line S42) direct to traade fair north/ICC
Zoological Gardens: approx. 24 minutes, from Gesundbrunnen by der U-Bahn (U8 direction Wittenau) to Osloer Strasse, then further by U-Bahn (U9 direction Steglitz) to Zoologischer Garten
Berlin Tegel airport: approx. 23 minutes, from Gesundbrunnen by S-Bahn (circle line S42) to Beusselstrasse, then take the Expressbus TXL to Berlin Tegel airport