Apartment's location
The apartment lies centrally between Potsdamer Platz and Checkpoint Charlie. Potsdamer Platz has many tourist and cultural attractions, and is only a few walking minutes away. The Kulturforum, Sony-Centre, New National Gallery, Film Museum, Communications Museum, Berlinale Palast and many more attractions can be found here.
This is the ideal place for those who would like to learn all there is to love about Berlin and its attractions, without travelling long distances. Be it the Kulturforum or New National Gallery (1500 m), Checkpoint Charlie (700 m), Brandenburger Tor (1800 m), Reichstag and Regierungsviertel (Parliament buildings) (1900 m), Jewish Museum (800 m), Technical Museum (700 m), Tempodrom (200 m), Musical-Theatre, IMAX-Cinema at Potsdamer Platz and even the "green lungs" of Berlin (Tiergarten / gardens) (1600 m), they are all within easy walking distance.
For shopping or a pleasant stroll, go to Friedrichstrasse (400 m), Unter den Linden (1800 m) and Potsdamer-Platz-Arcades (900 m). The Kurfürstendamm and the shopping gallery KaDeWe can be reached within 10 minutes by subway. Many restaurants and Berlin bars, where one can even order breakfast in the afternoon, are close-by. There are supermarkets and convenience stores (eg. Aldi, Schlecker) in the area.
The apartment
Newly decorated, but nevertheless a good value-for-money apartment, on the 10th floor in the heart of the city, near Potsdamer Platz, with ideal travel connections and a wonderful view over Berlin. Many of the tourist attractions can be reached within a few minutes walk.
The spacious 1 room apartment (36 m²) for 1 to 4 guests on the 10th floor is accessible via a lift. It has a large living/bedroom with double bed and double sleeper couch, cable TV and radio alarm clock. Plus a sunny balcony with an impressive view of the city centre.
There is a separate, fully-equipped small kitchen (fridge, 4 plate stove, oven, coffee machine, toaster and kettle) and a tiled bathroom with a bath.
This is a non-smoking apartment, but smoking on the balcony is permitted.
Travel connections
The city train (S-Bahn) station - Anhalter Bahnhof, is situated almost directly in front of the door. The underground station (U-Bahn) – Möckernbrücke, is about 600 m away. From there you can reach:
Berlin Potsdamer Platz: 8 mins walk
Berlin trade fair in approx. 28 minutes; by city train=S-Bahn (S1 direction Wannsee) to Schöneberg, then take the S-Bahn (S41, circle line) to the trade fair
Zoological Gardens approx. 21 minutes; by underground= U-Bahn (U1 direction Uhlandstr.) to Wittenbergplatz, then take the U-Bahn (U2 direction Ruhleben) to Zoologischer Garten
Berlin Mitte Alexanderplatz in approx. 20 minutes, by the S-Bahn (S2 direction Bernau) to Friedrichstrasse (or walk), then take the S-Bahn (S9 direction Flughafen) to Alexanderplatz
Berlin central station in approx. 19 minutes direct ; by bus M41 from Anhalter Bahnhof to Hauptbahnhof
Low Emissions Zone (LEZ) – LEZ stickers
The city zone (A) within the S-Bahn-Ring (city train circle) is part of the LEZ. If you do not have a sticker for the LEZ of Berlin city centre, you can find information here, on how to get LEZ stickers for tourists.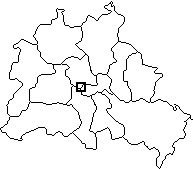 The apartment is on Hedemannstraße in 10963 Berlin Germany. Click on the map to come to www.stadtplandienst.de or use the routing function of web.de