Ludwigskirche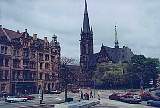 Rathausplatz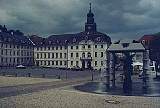 Schlossplatz
Guest room in Saarbruecken
Saarbruecken is directly on the border to France.
Here the people speak both German & French. Their host speaks English, Luxembourgish and some Italian, in addition the bearing language.
Saarbruecken the state capital, has 200,000 inhabitants, seat of the government, they call it "small Paris". For more information on the objects of interest in Saarbruecken click here.
To get to the cities of St. Ingbert, Neunkirchen, Homburg, Saarlouis, Forbach (France), Metz (France),
Saargemuend (France) (all not further away than 50 km) there are good public connections (bus + course). Trier, Luxembourg, Kaiserslautern, Nancy, Strasbourg are approx. 80 km far away.
It is nevertheless a very calm and private room (21 square meter) in the Saarbruecken town center, but with garden, good parking possibilities, top equipment, MD+TV, telephone, PC and InterNet use, own WC, apartment sharing, bath, kitchen, it is well equipped.
The main station is 300 m away, Saarbahn and bus stop approx. 200 m. the central market place is 400 m away, a multiplicity of restaurants, lunches and purchasing possibilities are directly attainable.
In case of interest: For gay persons, venues are less than 500 meters away , lesbian locations are approx. 100 meters away from the rooms.
Their host welcomes all open and friendly guests. You have access to the city plan, regional maps etc..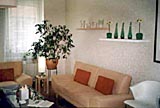 prices of the private room
per person/night with breakfast
euro 27.00
surcharge
only 1 night reservation
+euro 5.00
This room is made available by Privatzimmer Sens, Agency for holiday apartments and guest rooms in Germany.
Price includes agency fee. Please note our terms and conditions & privacy policy.
We wish to thank the Bed and Breakfast Ring Germany for listing this accommodation.
For responsibility of the contents (imprint) see www.zimmer-im-web.de
We have taken great care with our translations. Translation errors can nevertheless occur.
In the case of discrepancies between this translation and the original German version, the German version is valid.