The large room with own bathroom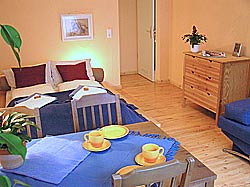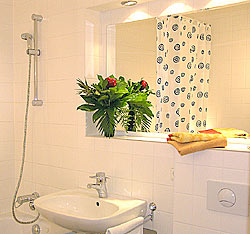 the own bathroom with bathtub, toilet and washbasin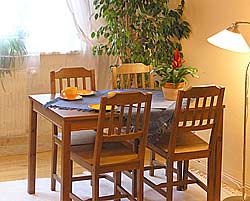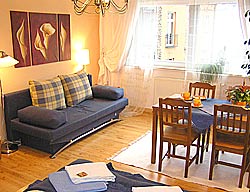 large room with double bed and sleeping sofa for 2 persons each, 20 m²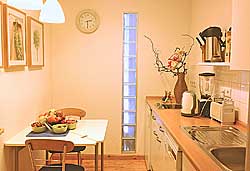 the kitchen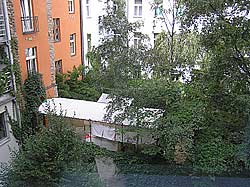 view into the quiet courtyard
The accommodation
The rooms are centrally located just 1200 m to Alexanderplatz (Mitte-district and historical city-center) in the district Berlin - Prenzlauer Berg, near the lively Kollwitzplatz, the heart of this East-Berlin region. The house is a new building underground car park. The apartment is very quietly situated, with the windows all facing onto the green court. The apartment is on the 3rd floor with elevator.
We offer 3 guest rooms in a 85 m² large non-smoking-apartment. The fourth room is used by the host. The guest rooms are individually furnished, clean, friendly and inexpensive.
The kitchen
The kitchen is equipped with everything you need for a short stay in Berlin (microwave, hot plate, refrigerator, coffee maker, dishwasher, washing machine, toaster, dishes and a kettle).
We do not offer breakfast but after a refreshing bath or shower, you can enjoy your self-made breakfast in the apartment or visit one of the numerous cafes and restaurants nearby.
Useful equipment
A cot/babybed is available on request. There are also a hairdryer per room, umbrellas, an ironing board and an iron.
For use during your stay: city maps, information about free city sightseeing tours by public transport, Berlin books in German, English, Danish, Spanish, Italian and the current issue of the "Tip", which is considered the greatest city scene magazine. The "Tip" offers not only an event calendar for movies, concerts, parties, theatre etc. but also the most recent trends from the city and reports about film, art, culture and city life, as well as a television guide.
The surrounding area
The building is close to the Kollwitzplatz and the Wasserturm (water tower), one of the lively and often frequented club and bar scenes in the New Berlin.
From here you can easily reach all the other parts of Prenzlauer Berg on foot – for example:
the Kulturbrauerei (cinema and several clubs) or
the Lychener Straße with even more bars and cafes (I personaly like the cuban restaurant with great Mojito and a wine restaurant named "Weinstein" with Topinki – a Czech invention for those of you who like garlic),
the Helmholtzplatz (the "old" heart of Prenzlauer Berg) with the adjoining Dunker Straße – an area with a lot of buildings which were once occupied by squatters,
the Jewish cemetery (high ranking personalities found their last resting place here, e.g. Max Liebermann, Ludwig Bamberger, Eduard Lasker, Giacomo Meyerbeer)
the Oderberger Straße (.... more bars and bistros...) or
the Friedrich Ludwig Jahn - Sportpark with the Max Schmeling - Halle (large hall for concerts and events)
as well as the Mauerpark (wall park - don't miss the best flea market in town on sundays)
at the end of Bernauer Strasse Gedenkstätte Berliner Mauer (Berlin Wall Memorial) - a free of charge open-air museum of the Berlin Wall
within 100 m: supermarket, large organic shop, internet café (0.80 €/per hour) with late night shop, bike rental, bakeries, newspaper shops with international press, several cafés/ restaurants/ fast food
As you can see – you will not have the chance to get bored even if you don't leave the neighbourhood (Kiez).
But don't worry – Hackescher Markt and the Oranienburger Straße in Berlin Mitte or other parts of the city can be easily reached from the nearby underground, bus and the tram stops. And if you are in a hurry: a taxi-rank is just around the corner.
The large room with own bathroom
The 24 m² guest room has a wardrobe, a large table with 4 chairs, radio-alarm clock, a flat-screen TV, a large double bed (140 x 200 cm) and a sofa-bed (140 x 200 cm), so the room is suitable for up to 4 guests.
The own bathroom has a bathtub (also possible for shower), a toilet and a wash basin.
The small room with shared bathroom
In the small room there are two single beds, which we can put together for you. There is also a writing desk, cupboard, bookshelf and TV. The shared bathroom has a shower, a toilet and a wash basin.
The green room with shared bathroom
The green room has a double bed (160 cm × 200 cm). There is a large writing desk, a dresser, a wardrobe, and a TV. The shared bathroom has a shower, a toilet and a wash basin.
Prices per night and room - summer
small room 12 m²
(shared bathroom)

green room 15 m²
(shared bathroom)

large room 24 m²
(own bathroom)

1 guest

38.00 euros

40.00 euros

52.00 euros

2 guests

40.00 euros

45.00 euros

60.00 euros

3 guests

68.00 euros

4 guests

76.00 euros
Prices per night and room - winter
small room 12 m²
(shared bathroom)

green room 15 m²
(shared bathroom)

large room 24 m²
(own bathroom)

1-2 guests

38.00 euros

40.00 euros

50.00 euros

3 guests

58.00 euros

4 guests

66.00 euros
Winter prices valid from nov. - feb., except 23.12.-04.01.
one-night only stay +10 euros per room
Extra charge for late-arrivals after 08 pm: 10 euros 10pm: 15 euros, from 11 pm: 20 euros and from midnight: 30 euros.
underground car park 8 euros per night. (height: max 1.50 m)
washing machine (up to 6 kg): 4 euros, laundry dryer (up to 3 kg): 4 euros, drying on clothes horse: free of charge

Breakfast is not offered.
The rooms are available on the day of your arrival from 4 pm and we would ask you to check out on the day of your departure before 10 am. This is to make sure that the guest rooms can be prepared for the new guests.
You pay 50 % in advance and 50 % in cash when you arrive. Only last minute booking: you pay 100 % when you arrive. Prices incl. 7% VAT.
Parking is not free of charge in front of the house. This means that parking comes with a charge of 1 Euro per hour, Mondays to Saturdays from 9 am to midnight. Parking spaces without a charge can be found 5 tram stops away (northern Prenzlauer Berg). It is also possible to rent a space in the parking garage for 8 Euros a night (maximum vehicle height is 1.5m), or park in the garage a few hundred metres away. Your own or rented bicycle (you can rent one around the corner from 6 euro/ day) you can park in the locked courtyard.
Low Emissions Zone (LEZ) – LEZ stickers
The city zone (A) within the S-Bahn-Ring (city train circle) is part of the LEZ. If you do not have a sticker for the LEZ of Berlin city centre, you can find information here, on how to get LEZ stickers for tourists.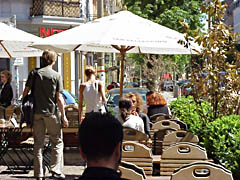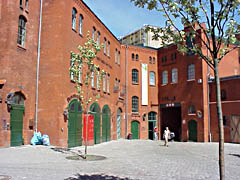 Kulturbrauerei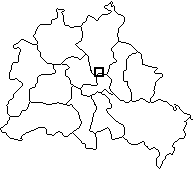 These rooms are located on Belforter Str. in 10405 Berlin, Germany.
Click on the map to go to www.stadtplandienst.de (mapguide) or use web.de (incl. routing function)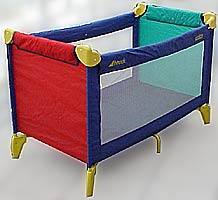 1-2 baby beds (cots) are available on request (included in the price).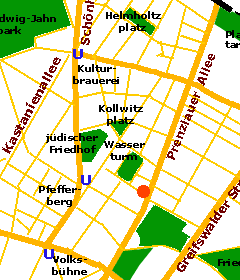 the exact situation of the accommodation