Guestroom by Zionskirchplatz, centre of Berlin
Quiet, comfortable and stylish guest rooms, approx 16 m², with shared kitchen and bathroom in the centre of the capital.
Optimum location: in the centre of Berlin whilst situated in a quiet area. You will find yourself in the centre, near to Ackerhalle, the 'people's park' (Volkspark) in Weinberg and Arkonaplatz. It's roughly a 10 min walk to Prenzlauer Berg and Hackescher Markt.
The hosts' apartment is on the 3rd floor (no elevator) at the front of an old building.
From April to October, a second large room is available for 2 people in the building. Naturally, the booking can be made for the whole apartment, accommodating 4 people (65 m²).
Your hosts, Dustin und Willi, are very welcoming. Both are self employed (in finance/IT) and work a lot from home. They are more than happy to give you tips on what to see and do during your stay.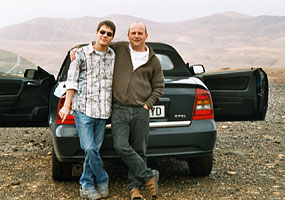 It's a 3min walk from the accommodation to the underground station on Bernauer Strasse 'Rosenthaler Platz', the underground travels through Alexanderplatz to Kreuzberg, while taking the train (S-Bahn) from Nordbahnhof (5 min walk) will take you through Potsdamer Platz to Schöneberg. The immediate surrounding area is full of nightlife and daytime activities. Ideal for those looking for cafés, bars, good value restaurants and galleries.
A wash-and-cut here costs 10.50 Euros and opposite there are plenty of organic stores to find a snack. On Sundays, the apartment is 4 mins away from a wonderful flea-market where you are always likely to pick up some kind of oddity or bargain, after which you can relax with a coffee at Zionskirchplatz.
Prices per night and room
52 euros with one or 2 guests in the room
A deposit of 20 euros is required on arrival.
You can bring pets/children up to the age of 14 for no extra cost.
For long stays, every 7th night is free!
Minimumstay 2 nights or 100 % surcharge for one night
Included in the price:
Bedding and hand towels.
Internet/ DSL for your laptop via WLAN/Wi-Fi

By request:
Breakfast: 5 euros per person
Lunch: 7 euros per person
Light evening meal: 5 euros per person
Prices for second rooms and apartment, see below.
Distances:
Berlin centre/Alexanderplatz: approx 11 minutes; from Bernauer Strasse by underground (U8 destination Hermannstraße) to Alexanderplatztz
Berlin trade fair: ICC: approx 28 minutes from Bernauer Strasse via the underground (U8 destination Wittenau) to Gesundbrunnen,
then take the train (S-Bahn- S42 destination Schöneberg) to 'Messe Nord / ICC
Zoological gardens: approx. 21 minutes; from 'Nordbahnhof' take the train (S25 destination Lichterfelde) to Friedrichstraße,
then get the S5 train (destination Spandau) to 'Zoologischer Garten'
Potsdamer Platz (cultural centre, Sony-Centre, new National Gallery, film museum, communications museum, Berlin palace): approx 14 minutes; direct from Nordbahnhof with train (S1 destination Potsdam) to Potsdamer Platz
Berlin Tegel airport: approx 37 minutes; from Bernauer Strasse with the underground (U8 destination Wittenau) to Franz-Neumann-Platz,
then take bus number 128 to the airport
Low Emissions Zone (LEZ) – LEZ stickers
The city zone (A) within the S-Bahn-Ring (city train circle) is part of the LEZ. If you do not have a sticker for the LEZ of Berlin city centre, you can find information here, on how to get LEZ stickers for tourists.