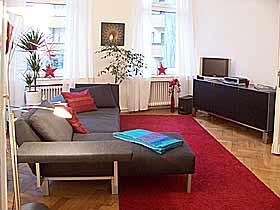 The living area with sofa bed
The apartment is situated on Motzstraße in 10777 Berlin, Germany.
Map www.stadtplandienst.de

With several breakfast cafés and restaurants on a quiet service road on Viktoria-Luise-Platz in Schöneberg, it is the perfect place to relax.
Also in the surrounding area are excellent shopping opportunities, as well as small stores for your everyday needs. Kurfürstendamm und KaDeWe are within a short walking distance, as is the lovely weekly market at Winterfeldtplatz.
The surrounding area - Berlin Schöneberg
Schöneberg lies geographically between the trendy district of Kreuzberg and the middle-class Wilmersdorf. With its chic pubs, cafés and restaurants the district is as lively as an area renowned for nightlife. To really experience Schöneberg, you should try to get to the Winterfeldtmarkt at the weekend , perhaps the most well known weekly market in Berlin. Here you will find the highest quality fruit, veg, flowers, cheese, clothes and household items. After which, you can relax in one of the many surrounding cafés.

It was in Schöneberg townhall in 1963 that John F. Kennedy made his famous "Ich bin ein Berliner" speech to Berliners on the west side of the wall. West-Berlin was governed from the Schöneberg townhall up to the time of reunification; the liberty bell still rings here every midday. The graveyard in Stubenrauchstraße is the final resting place for possibly one of the most famous Berliners: Marlene Dietrich, who was born in 1901 in Schöneberg.
Low Emissions Zone (LEZ) – LEZ stickers
The city zone (A) within the S-Bahn-Ring (city train circle) is part of the LEZ. If you do not have a sticker for the LEZ of Berlin city centre, you can find information here, on how to get LEZ stickers for tourists.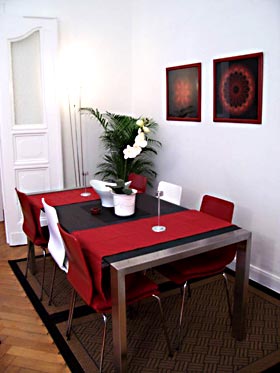 The dining area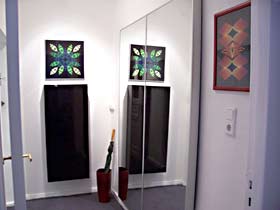 Entrance with a large mirror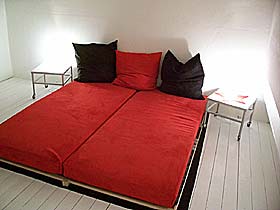 Double bed on the gallery
The great apartment
Comfortable holiday home for non-smokers in a central, although peaceful location, directly on the amazing Viktoria-Luise-Platz.
This apartment has been lovingly furnished with much attention to detail and is equipped with all mod-cons.
The many intricate and detailed circular works were finished by Wolfgang Miethke, the calligrapher in the book: des Goldenen Buches der Stadt Berlin.
This 80 m² apartment has 2 spacious rooms (3.80 m high) with a perfectly equipped kitchen and a big bathroom with 2 wash basins, a bath and a toilet.
| | |
| --- | --- |
| | |
| The Kitchen | Tiled bathroom in art nouveau |
The living room has an extra dining and living area that can be adapted to each one's needs - from an inviting sitting corner, to an enticing lounging area, or to an elegant night bed (1.50 m x 2.00 m).
The bedroom offers an escape from the gallery, and is equipped with a 1.80 m x 2.00 m large bed and another double bed (1.60 m x 2.00 m).
Workaholics can comfortably carry out their work at the big desk. Telephone, cable TV and stereo with CD player are available.
| | |
| --- | --- |
| | |
| Bedroom with stairs to the gallery | Work table by the window |
There is a comfortable place in the garden or in the courtyard for smokers.
To complete this lovely apartment, is a quaint, quiet garden, which you may use along with the hosts.
Prices per night and apartment
November-February *
March-October
1 guest
80 euros
100 euros
every further guest over 13 years
+ 20 euros
+ 25 euros
children from 3 to 12 years
+ 10 euros
+ 10 euros
children up to 2 years
free
* Winter prices do not include Christmas, New Year (20.12.-15.01), Green Week,
Minimum-stay 7 nights
Final cleaning: 40 euros
Bedding and handtowels are included in the price.
Car parking space: 3 euros / day
Dogs only after arrangment


Breakfast is not offered
For your booking a deposit of at least 25 % is necessary and 75 % in cash when you arrive. Only last minute booking: you pay 100 % when you arrive.
Distances
The bus route M46 from Martin-Luther-Strasse and underground lines 1, 2, 4, 7, 15 guarantee good transport links in all directions. It takes approx 4mins to walk to the underground station Viktoria-Luise-Platz and from there you can travel in all directions across the city.
Berlin Mitte Alexanderplatz: approx. 24 minutes, from Viktoria-Luise-Platz by underground (U4 direction Nollendorfplatz) to Nollendorfplatz, then by underground (U2 direction Pankow) to Alexanderplatz
Fairground Berlin : approx. 28 minutes, from Wittenberg Platz (approx. 8 min walk) by bus 219 without changing to Messe Süd
Zoologischer Garten: approx. 13 minutes; by bus M46 without changing to Zoologischer Garten
Berlin Hauptbahnhof (main station) : approx. 22 minutes; from Albertstraße by bus M48 to Varian-Fry-Straße, then by bus M41 to Hauptbahnhof
Airport Berlin Tegel: approx. 37 minutes; by bus M46 to Zoologischer Garten, then by expressbus X9 to airport Berlin Tegel
Berlin Potsdamer Platz: approx. 15 minutes; from Viktoria-Luise-Platz by underground (U4 direction Nollendorfplatz) to Nollendorfplatz, then by underground (U2 direction Pankow) to Potsdamer Platz (Cultural Forum, Sony Center, New National Gallery, Film Museum, Museum of Communication, Berlinale-Palast)
| | |
| --- | --- |
| The apartment is situated inside this house | The garden can be used |
Winterfeldt-Markt - the highlight of Berlin's weekly market
Winterfeldt- Markt is one of the nicest of the many weekly markets in the city. It's numerous and diverse stalls sell fruit, veg, fish, meat, flowers, baked goods and sometimes the traders can be heard half-way across the market, as they advertise their goods. And not forgetting the wide range of stalls on the market where you can enjoy breakfast or lunch. Whether it be prawn skewers or fish soup, devilishly spicy Thai-curry or a falafel kebab: to turn up to the market on a full stomach would be a shame!