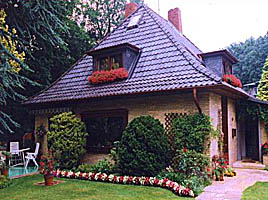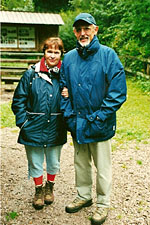 My husband and I would like to welcome visitors to our house. We have two guest rooms - one is a double, one single. They are both comfortable and boast modern furnishings.
The single room is 38 euro per night, and the double 60 euro.
You pay 25 % in advance and 75 % in cash when you arrive. Only last minute booking: you pay 100 % when you arrive.
Pets are not possible to bring with you.
Minimum-stay 3 nights!
Where are we in Hamburg, Germany?
You will find us in Hamburg Harburg, in the south of Hamburg. If you arrive by train, get out at Hamburg-Harburg. Then take the 144 bus in the direction of Appelbüttel until station Langenberg.

By car, take the A7 or A1 - our house just a few minutes off the motorway.

Public transport is also very handy to our house, its just a short trip to the city centre of Hamburg.

The Bathroom is 15 square meters large. It has modern fittings, with 2 wash basins, a shower - and is just a few steps from either guest room.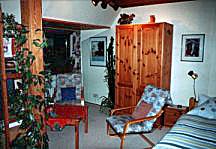 The double room is 20 square meters large, with plenty of light. It features tv, radio, books and a lounge setting. A fridge and coffee maker is also available in the adjoining landing.
The room costs 60 euro per night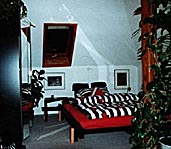 The single room is 18 square meters large. Its modern and well furnished. It has Tv, Radio, lounge setting, and books. The bed is 1.4 meters large, and very comfortable.
The room costs 38 euro per night. (one person)
This bed and breakfast in Hamburg is made available by Privatzimmer Sens, Agency for holiday apartments and guest rooms in Germany.
The price includes commission. Please note our terms and conditions & privacy policy.
We wish to thank the Bed and Breakfast Ring Germany for listing this accommodation.
For responsibility of the contents (imprint) see www.zimmer-im-web.de
We have taken great care with our translations. Translation errors can nevertheless occur.
In the case of discrepancies between this translation and the original German version, the German version is valid.
Other accommodations like guest rooms, bed and breakfasts and holiday apartments in Hamburg
Cities in Germany: Berlin | Cologne | Duesseldorf | Freiburg | Hamburg | Frankfurt am Main | Leipzig | Munich
bed and breakfast hamburg germany cheap accommodation for guest