The guest rooms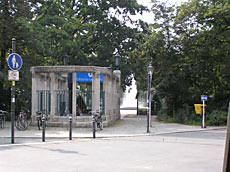 This accommodation is centrally located, directly at the wonderful Viktoria-Luise-Platz. Non-smoking, with internet access in the rooms.
Your hostess has taken great care in the details and design of both rooms, which are equipped with all the modern necessities.
The rooms are suitable for 2 guests in each. In one of the rooms, an extra bed can be supplied. The rooms can accommodate up to 5 guests.
A cot can also be provided if necessary.
There are two bathrooms for all the guests: the small one has a shower and toilet; and the big one has a bath, shower, bidet and toilet. There is also a washing machine and a hairdryer. The big bathroom is also used by the hostess, but on request, you can reserve one of the bathrooms for your use only. This has a surcharge – please include this request in the form below.
In each of the rooms there is a PC with internet connection wiht no extra charge or WI-FI, a CD player and TV.
The living room has a cable TV, stereo with radio and CD-player, and a telephone.

the living room
The fully equipped kitchen can also be used by the guests. Breakfast is self-service and coffee, tea and jam are provided.
the kitchen
There is a small garden which you are welcome to use and enjoy. The apartment is suitable for wheelchair users.
The prices per night and guest room
season
(march-october)
low season
(november-february *)
1-4 nights
ex 5 nights
1-4 nights
ex 5 nights
1 guest

44 euros

40 euros

40 euros

35 euros
2 guests
56 euros
52 euros
54 euros
50 euros
3. guests
(on a shakedown)

+ 10 euros

own bath

+ 3 euros
Bed linen, towels and cleaning 5 euros per person.
* Winter price in not valid for christmas/ New Year's Eve (20.12.-15.01), Grüne Woche, ITB and Easter
The price includes bedclothes and towels.


Breakfast is not offered, but you can use the kitchen.
Minimum stay on holidays and big events: 4 nights.
For your booking a deposit of at least 25 % is necessary and 75 % in cash when you arrive. Only last minute booking: you pay 100 % when you arrive.
You can rent a parking place from your host for 3 euros per night.
Distances

Travel connections in all directions are accessible by the U-bahn (subway) line 4, and from Martin-Luther-Str., or by bus line M46. It is a 4 minute walk to underground station Viktoria-Luise-Platz. From there you can travel in all directions of the city.
Berlin Mitte Alexanderplatz: approx. 24 minutes; from Viktoria-Luise-Platz by underground (U4 direction Nollendorfplatz) until Nollendorfplatz, than by underground (U2 Richtung Pankow) to Alexanderplatz
Messe Berlin, ICC, Funkturm: approx. 28 minutes; from Wittenbergplatz (8 min walk) nonstop by bus 219 to Messe Süd.
Bahnhof Zoologischer Garten: approx. 13 minutes; by bus M46 nonstop to Zoologischer Garten.
Berlin Hauptbahnhof (central station): approx. 22 minutes from Motzstraße by bus M46 to Zoologischer Garten and than by S-Bahn (City Train) S5 to Hauptbahnhof.
Flughafen Berlin Tegel: approx. 37 minutes; by bus M46 to Zoologischer Garten than by Expressbus X9 to the airport
Berlin Potsdamer Platz (Kulturforum, Sony-Center, neue Nationalgalerie, Filmmuseum, Kommunikationsmuseum, Berlinale-Palast): in approx. 15 minutes; from Viktoria-Luise-Platz by underground (U4 direction Nollendorfplatz) to Nollendorfplatz than by undergound (U2 direction Pankow) to Potsdamer Platz.
Low Emissions Zone (LEZ) – LEZ stickers
The city zone (A) within the S-Bahn-Ring (city train circle) is part of the LEZ. If you do not have a sticker for the LEZ of Berlin city centre, you can find information here, on how to get LEZ stickers for tourists.
Winterfeldt-Markt - the Highlight of the Berlin weekly-markets
There are many weekly markets in the city but this is definately one of the nicest. This may well be due to the diversity of the market stalls here. There are fruit and veg stalls, butchers' and fishmongers' stalls, flower stalls, bakers' stalls, and sometimes you can hear the sales cries from one side of the market all the way over the other side! Not to be forgotten, there are many opportunities to enjoy breakfast or lunch. Whether it's prawn kebabs or fish soup, devilishly hot thai-curry or falafel out of your hand. To go there on a full stomach would be a shame.
And in case you can't decide which florist to buy your roses from for your forthcoming rendezvous, you'd best sit yourself in one of the adjacent cafes or stand in front of "Slumberland" and ponder your decision over a wine, a beer or a Milchkaffee and wait for the sales at 14:30
| | |
| --- | --- |
| The apartment is located in this house. | You can share the garden. |
| The large bath with bathtub and shower. | Little bath with shower. |